If your business has cash flow problems, be careful to avoid statutory demands being served or winding up petitions. These will cause your bank account to be frozen (in every case within 14 days of the winding up hearing your bank must legally freeze your bank account). If you wait too long to seek advice or start an insolvency process, your creditors can take control of the outcome.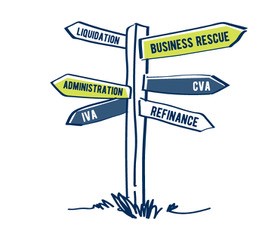 However if you contact us in the first instance we can offer you support and advice to achieve the best possible outcome for you and your business. This may include us obtaining a Moratorium which stops all legal action and gives you time to consider the options.
We know as a business owner you'll have questions that need answering, issues to be dealt with and require assurance and advice to make sure you aren't making the situation worse. As Licensed Insolvency Practitioners with 20 years' experience, we aim to make sure that you're clear on the best options available and ensure that you make the right choices to improve your circumstances.
It can often help to have an impartial mediator such as Kirks Insolvency to negotiate with your creditors, so our first task is to ask the creditors to deal with us directly.
If your number one objective is to save the business and the jobs of your employees, we will do our upmost to achieve this for you.
An initial meeting is confidential and free of charge and you are welcome to bring an accountant, advisor or friend for support.
Click the relevant link below to find out more about the advice and service we can offer if you are a: